About Jonathan Hostetler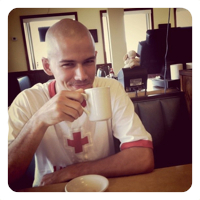 Photo by Andrew Hostetler
Hello, my name is Jonathan Hostetler. I'm the webmaster and author of this website, How-to-Experience-the-Bible.com.
I grew up in a strong Christian family, which I am very grateful for. So my exposure to the Bible is extensive. From as early as I can remember, my parents taught me to read God's Word and pray every morning. Then, when I made the decision to follow Jesus (at age 9), I was prepared to grow spiritually.
In my later-elementary years, I thoroughly enjoyed memorizing verses that I would recite at my church. My church's children's program had an incentive system, which allowed us kids to memorize and recite Bible verses, and receive one point for every verse successfully recited. Then, once a month, we could redeem those points for prizes.
I always had so much fun memorizing Bible verses, even though I didn't have to. After a "graduated" from the kid's program, I didn't memorize the Bible as often.
Some years later, I decided to do school from home. I finished all four years of high school at home, through distance learning. In that season of high school at home, two important things happened to me. My passion for Bible memory came back, and I taught myself how to memorize chapters of the Bible. I explain how to do that in my Bible Memory Guide. And at the same time, I was introduced to a minister of God, Charles Capps, and as I listened to more and more of his teachings, my "religous" mindset transformed into a faith-based relationship with God.
You can learn more about me and my hobbies and interests at my personal website, or by connecting with me on facebook.
My goal for this website is to encourage and inspire disciples of Jesus to "get into the Word" more, and to actually enjoy it. Because, if we claim to follow Jesus and his teachings, then we need to know those teachings that we claim to follow.
In Jesus,
Jonathan Hostetler
How-to-Experience-the-Bible.com
Last updated Oct. 26, 2011